Templates – One Path to Data Standards
One challenge to many data design efforts is establishing consistency within and across projects. In fact, the need for and benefits of consistency is not only inter and intra project, it is also temporal, stretching from the moment its value is recognised into the future.  The positive impacts on productivity, cost avoidance, product and service quality and customer satisfaction are the paybacks for the investment in data standards and governance programs. However, perceived cost inflation and time extension resulting from instituting these programs are often concerns of development managers and executives.
How can I as a manager have my cake and keep the price down?
In fact, the major challenge may not be price, but having to utilise scarce personnel to manually verify the systems being designed and built. One approach, of several possible, is to apply technology such as erwin Data Modeler's (erwin DM) Template functionality.  By incorporating agreed upon data object properties, rules, technology standards and 'master' data objects into erwin DM templates, business analysts, data architects, data modelers, and DBAs can depend on a substantial reduction in the variability of data design work products.  Not only can templates be used internally, but their use can be required of outside contractors to strengthen the supply chain.
Table and Column Naming Consistency
                In the scenario where business objects and their properties are captured in logical data models and then converted to physical data models appropriate to the target RDBMS, naming and other standards can be defined once and reused multiple times.  For example, the conversion of data object and property names can be shown graphically as follows: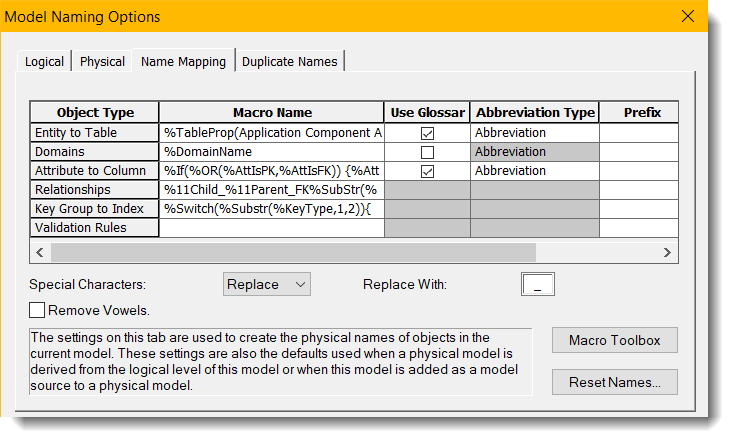 The actual conversion algorithms can be captured in erwin DM's Model Naming Options' template 'Name Mapping' tab.  Access to erwin's 'Macro Toolbox' is provided to assist in the creation of the appropriate macros.
Reusing Naming Standards and Other Properties
Once a set of rules and properties, such as illustrated in the above example, have been created in an erwin DM model, that model can be saved and managed as a template for future models.  Besides the naming options and mapping, there are over 200 data model template objects that can be included, wholly or selectively, in a template.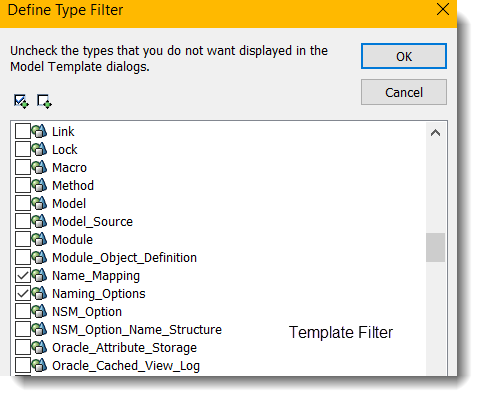 Besides creating new templates, templates can be bound and unbound to/from existing models and merged with other templates. For models that are bound to a template, changes to that template can be synchronised to the bound models as well.  As a final note, standardised logical and physical data model objects, i.e. 'master data objects', can be included in templates, adding a further level of consistency to a data design effort.
Use of templates to help improve design consistency is not a new concept, and erwin Data Modeler's high level of automation helps ensure the consistent application of data design rules, objects and properties. Organisations will benefit by avoiding reinvention of standards for each project, reducing integration issues on large scale systems and resolving design anomalies once rather than many times over.
Watch our latest erwin Data Modeler webinar to see the latest updates to erwin Data Modeler.