As organisations strive for data-centricity and a data-driven approach to business, they look for new ways of innovating and capturing relevant actionable data streams. This innovation is causing a complete transformation of how we approach data storage and management – creating a new hybrid data architecture. Particularly with ERP, CRM and other systems, information is often locked within proprietary systems, requiring specialised knowledge to integrate these systems with other organisational data sources. This leads organisations to strive to deliver an agile and effective data management approach that promotes increased strategic data usage while mitigating risks.
erwin Safyr Option allows you to extract metadata from a wide range of ERP, CRM and other cloud-based systems and convert their proprietary data dictionaries, complete with customisations, into intuitive erwin data models. This helps you understand the data structures and definitions, enabling you to reduce the risk inherent in complex data management processes and better leverage your strategic information assets.

Integrate information from packaged applications into your overall data architecture, breaking down organisational data silos

Better understanding and awareness of business-critical information assets

Increased data fluency, efficiency, confidence and accountability

Remove the need for specialised knowledge and technical infrastructures
Product feature details
erwin Safyr Option enables you to extract important metadata from your ERP systems for modelling and analysis. It provides relationship mapping and navigation to allow you to see how tables are related to each other. Users can create and manage subsets of metadata and search and browse for intuitive metadata discovery using keyword search, object filtering, metadata drill-down and drill-across, hierarchical navigation, automated inference of undefined relationships and generation of ERP application statistics.
erwin Safyr Option features visual design of ERP data assets together with Model creation through erwin Data Modeller using business friendly names.
The solution supports: SAP*, SAP Business Warehouse (BW)*, SAP S/4HANA, Microsoft Dynamics
AX 2012, Salesforce*, Oracle E-Business Suite*, Oracle PeopleSoft Enterprise applications*,
Oracle J.D.Edwards EnterpriseOne*, Oracle Siebel*
Repository hosts are supported in the following database environments: Oracle, Microsoft® SQL
Server, Sybase SQL Anywhere, IBM DB2® and SQLite
*Contact us for versions supported.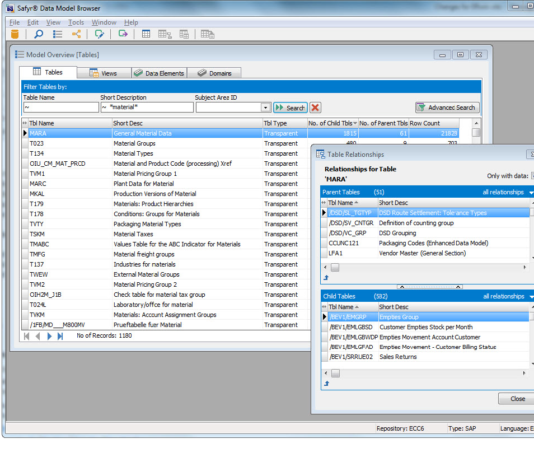 Request a trial
Get started by filling in the form below to begin your free trial